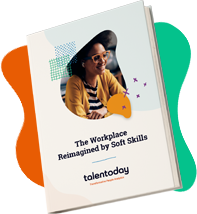 Turbulent times, from COVID to the Great Resignation, have made it hard to generate sustained momentum in the workplace. Ready for that to change? Learn how to reimagine the workplace and revitalize your workforce performance and connections with soft skills intelligence.
This eBook will explore:
SOFT SKILLS IQ
Leveraging personality, behavioral, and motivational workforce knowledge for business results.
REDEFINING FLEXIBILITY
Finding a modern mix of flexibility to address employee wants and workplace needs.
LEARNING & UPSKILLING
Making the workplace somewhere that career growth has equal value to business growth.
GROWING DIVERSITY
Welcoming and developing a broad range of people and partners who will shape and elevate the business.
BEING HUMAN
Resisting the over-automation and digitizing of workplace relationships to foster culture and connection.
Download Your Free eBook
Submit your information below for access to the latest soft skills research from Talentoday!